All eyes of the golf world, and many in the corporate world will be on the Ryder Cup in late September.

The big corporate sponsors have tents and TV commercials, but the many small businesses that are entertaining clients and customers will want to make sure that they outfit their guests in golf friendly attire that is versatile in late September and memorable for the global event that is the Ryder Cup.

Here are few great items that golf fans can wear in style and comfort and represent your company's brand very well when the US takes on Europe at the end of September.

Clothing:

Nike Dri-FIT Micro Pique Polo - Men's & Women's
The golf polo is a classic for a reason. It combines comfort and style both in the office and at the golf course. Make sure your employees are comfortable and polished watching a full day of golf with the Men's and Women's Nike Dri-FIT Micro Pique Polo. Your team will look unified cheering on team USA, and with your logo placed prominently on the front chest you can ensure some brand awareness as well. That's what we here at Merchology call a win win.



Layering:
Under Armour Corporate Men's Charcoal Heather Tech Full Zip Hoodie &
Under Armour Corporate Women's Charcoal Perfect Team Full Zip
As much as we may hate to admit it, the weather is cooling down. Make sure your employees stay warm in the late September breeze with these classic layering pieces from Under Armour. The Men's Tech Full Zip Hoodie paired with the Women's Perfect Team Full Zip guarantee everyone gets what they are looking for.
Callaway Heritage Navy Twill Cap
Look to the professionals when deciding what cap will be the best for you. Vice Captain Jim Furyk along with team members Phil Mickelson and Patrick Reed all rely Callaway, so you should too. This classic throwback style will not disappoint.
Under Armour Webbed Belt
Thanks to Jordan Spieth, Under Armour is one of the hottest brands in golf this year. Why stop with polos and jackets? This Under Armour belt brings back the utility belts were designed with while still keeping with the UA style we all know and love.
Accessories:

Brookstone Surge Power Bank
With some of the biggest names in golf standing feet away from you this is no time for missing out on a Snapchat. Keep your phone on hand and charged up all day long with this Brookstone Surge Power Bank. The USB port allows you to charge any and all of your devices throughout the day to ensure that you don't miss out on any photo opportunities.

Don't want to miss out on any snapchat opportunities?

Port Authority Fleece Blanket with Carrying Strap
Minnesota weather can be unpredictable. You never know exactly what the day of weather will bring. Enter the Port Authority Fleece Blanket with Carrying Strap. It is easily portable and ensures that your employees stay warm and comfortable all day long. Your company's branding can be easily added to the large imprint area on the carrying strap for an extra bit of brand awareness.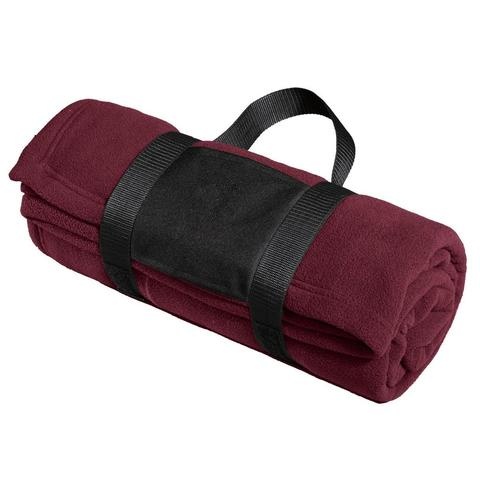 Be on the lookout for your favorite Merchology employees volunteering with Dress for Success at the food and drink stations during the practice rounds on September 27th and 28th!