In May 2018, 22 volunteers from Merchology ventured out to the Coldwater Spring area of the Mississippi National River and Recreation Area to help restore the landscape to its original state. Last year's event went so well that we decided to sign up for round 2 this year at Mounds Regional Park in Saint Paul, Minnesota!
Last Year's Volunteer Event at Coldwater Spring
Our goal last year was to remove invasive plant species like buckthorn and garlic mustard from the area and replace them with freshly planted plant species that are native to the region. With enough hard work the Coldwater Spring can be reverted back to the oak savanna, prairie, and bluff top woodland landscapes that it once was… but not without volunteers like you! Click here to get involved!
Merchology Volunteers Hard at Work Removing Burdock Plants in Mounds Regional Park
This year's volunteer event at Mounds Regional Park shared last year's goal of eradicating an invasive plant species from the area. The target plant in Mounds Regional Park was burdock, which sprouts large leaves block sunlight from reaching native plants below it, and also produces burrs that can easily get stuck in animal fur and bird feathers.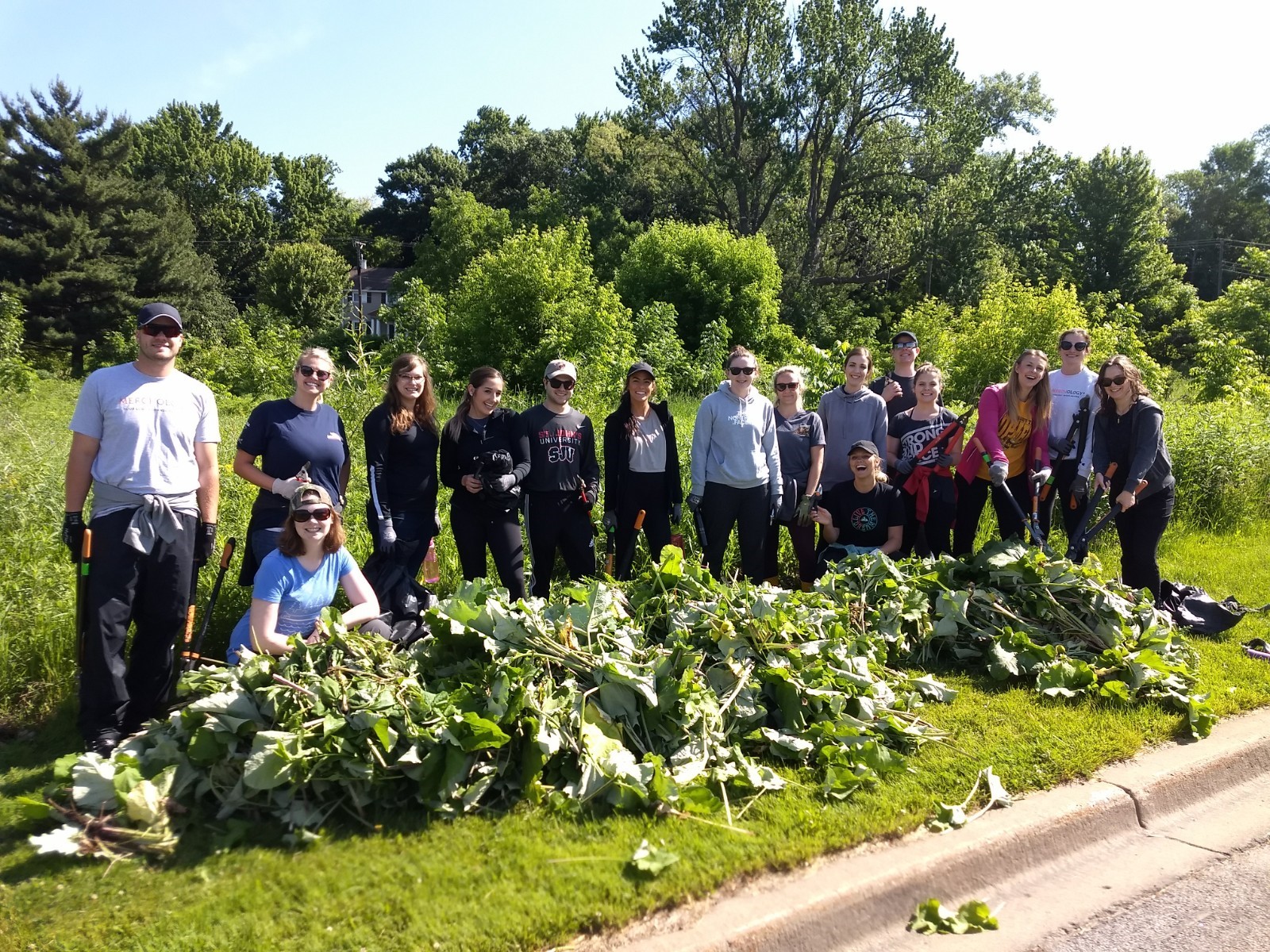 Piles of Freshly Pulled Invasive Burdock Plants
These volunteer projects were each in collaboration with the Mississippi Park Connection, our local 1% for the Planet partner. Merchology has been a member of Patagonia's 1% for the Planet program since September 2017. The program is essentially an alliance of businesses that are committed to leveraging their resources to create a healthier planet.
So, what does that mean? For starters, Merchology donates 1% of all of our earned revenue to environmental causes! Plus, both Merchology AND Patagonia donate 1% of the revenue when you purchase custom Patagonia clothing and accessories through Merchology. We have donated over $25K to Mississippi Park Connection in the past two years, and an additional $25K+ to Recycle Across America in the past two years as well. Visit www.onepercentfortheplanet.org to learn how your company can get involved and start making a difference!